ERP Evaluation & Selection Services

An Enterprise Resource Planning (ERP) system is an integrated system that helps in maintaining the internal and external resources of a company. It reduces the 'people dependency' and improves the Business capabilities.
ERP system facilitates integration of data and processes across multiple departments. This brings clarity to the current operations and helps to improve the business by providing real time data based analysis.
What we do:
With the abundance of ERP solutions available in the market, selecting the one that is best suitable for your organization can be tricky. A world-wide success rate of only 35% in selecting and implementing the right ERP corroborates this dilemma.
SSA TECHKNOWLOGIES performs a detailed SWOT analysis of the current processes and IT systems and helps you select the best possible ERP system. Our experts work closely with the clients to chalk out an implementation plan that brings out the best of your business processes.
Our Approach: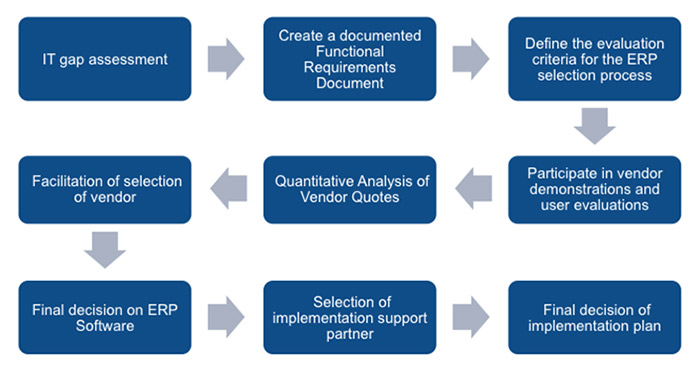 MANAGE YOUR RESOURCES EFFICIENTLY WITH ERP
Selecting the best ERP Solution for your organization can be tricky. Leaning on its expertise and vast experience, SSA Techknowlogies helps you get through this arduous process in a systematic way to get the best ERP solution.
Contact Now