Business Intelligence

SSA TECHKNOWLOGIES has rich experience in offering tailored software solutions and applications. We work in close partnership with your organization to deliver flexible, scalable and ingenious applications.
There is no denying the fact that software plays a dominant role in the daily functioning of an organization. With the growing technology and availability of large amounts of data, most of the organizations struggle to harness the potential of this data. For majority of organizations, it makes perfect sense to opt for a customized solution based on their unique requirements.
SSA TECHKNOWLOGIES is engaged in providing Business Intelligence (BI) training, consulting and implementation services. We help organizations by providing business insights to all employees leading to better, faster, more relevant decisions in Strategic, Tactical and Operational dashboards.
Some of customised solutions that we have implemented in Organisations are:
Fact Based Management System: Meeting the SLA tracking needs with daily manufacturing process progress and quality dashboard.
Corporate Budget Management System: Ability to link the actual spends with the budgets to identify which BU's are overspending or doing better business vs. other and help make strategic decisions.
Field View System: Field View is a mobility platform to collaborate the management, the field force and the customers.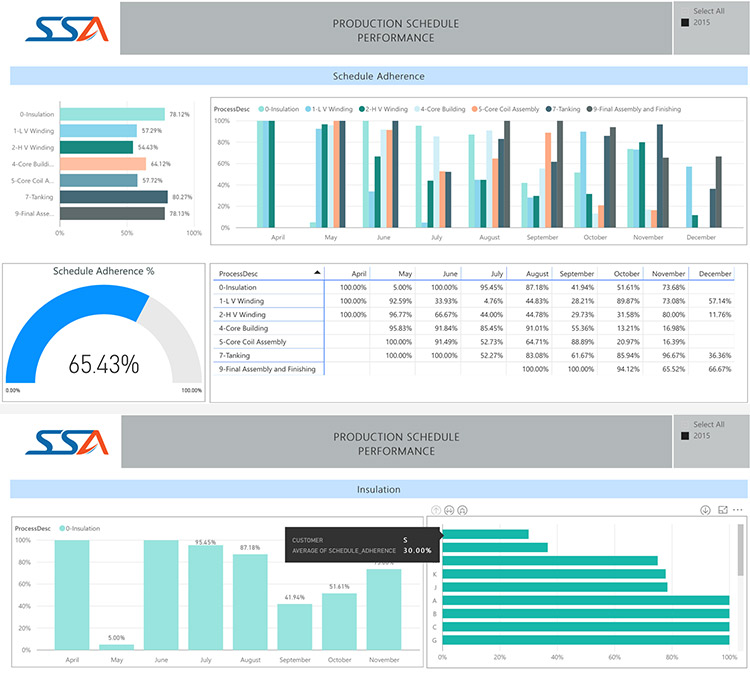 Fact Based Management System
Need of FBMS:
Generally, what happens in Production / Operations is a black box. The ERP tracks from material issue to production and then entry of SFG or FG as per setup with no information on the actual production process. Similar in transactional processing, where tracking status of Order is an unfulfilled requirement.
FBMS enables to take decisions on procurement or prioritising orders based on customer needs and ability to meet the SLA's. Daily updated dashboards that are a part of FBMS aid in making informed decisions.
Outcomes of FBMS Implementation Project:
Automation
- Minimize manual intervention and clerical tasks in capturing and converting data
- Enable information capture at source and reduce data duplication, errors and manipulation.
Accuracy
Reduced manual interventions and increased validations steps will improve accuracy in data capture and reporting.
Interactive Dashboards
Provide role based interactive dashboards which can be customised and scalable as the organization needs grow.

Approach for FBMS
Data Capture
• Identify job level master data capture at the time of actual job creation, duly integrated with ERP system i.e. Each job will be linked to Work Order of ERP system.
• Identify all the dash-boards with the drill down and search requirements for effective management
• User will have option to enter data on screen or import it from excel template. Excel template in turn will be controlled entry screen with validations.
Data Transformation
• Job data captured at source will be transformed into actionable information using predefined logic and regular updates.
• Create a Data Warehouse using Microsoft SQL on data from multiple data sources (Data Integration, Data Staging, Data Transformation Logic building for creation of Data Marts) without disrupting existing ERP
Dashboards
• Intuitive and Interactive dashboards & Fact Based Reports based on the above transformed data source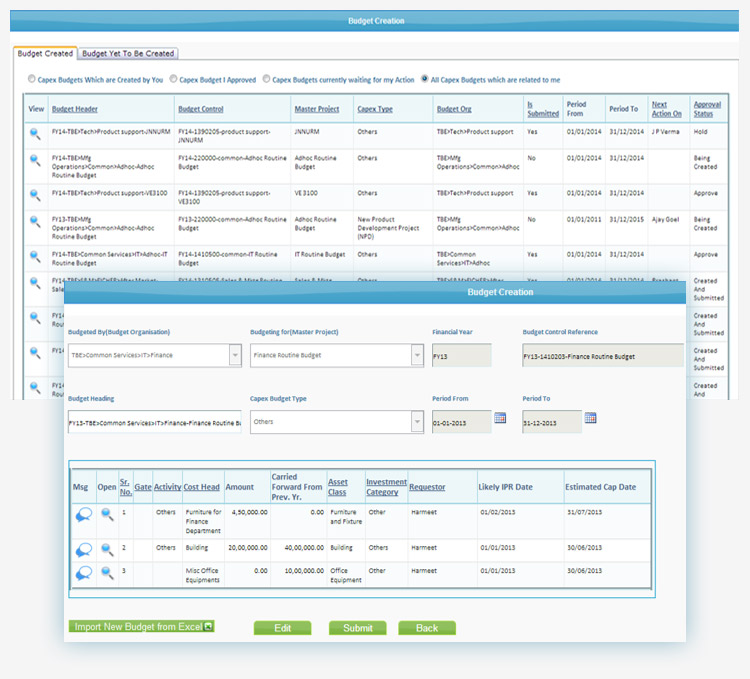 Corporate Budget Management System
Need of CBMS:
Companies generally do a good job at Budget planning. However, they struggle with collecting and rolling up budget information from branches to division to Business Units. Budget management is very rudimentary and rarely tracked against the plan.
CBMS fulfils the need of regular automated alerts stating where YTD expenses are against plan and ability to re-strategize or prioritise based on current demands.
BMS – Budget Management Platform:
Budget Control Centre
Hierarchies
Multi level consolidation
Users and Roles
Approval workflow
Budget Creation Templates & Screens
Controlled Excel templates with integrated masters
Budget entry screens
ERP Integration for masters
Business Intelligence for Budget Tracking
Interactive Role Based Dashboards
Self Service Reporting
Alerts
ERP Integration for actuals
Key features of BMS platform:
Easy to use and Configurable
Compact, Built on Lean principles
Multi-Currency
Highly cost effective, delivers immediate value and quick ROI
Integrated Business Intelligence with custom dashboards and self-service reporting.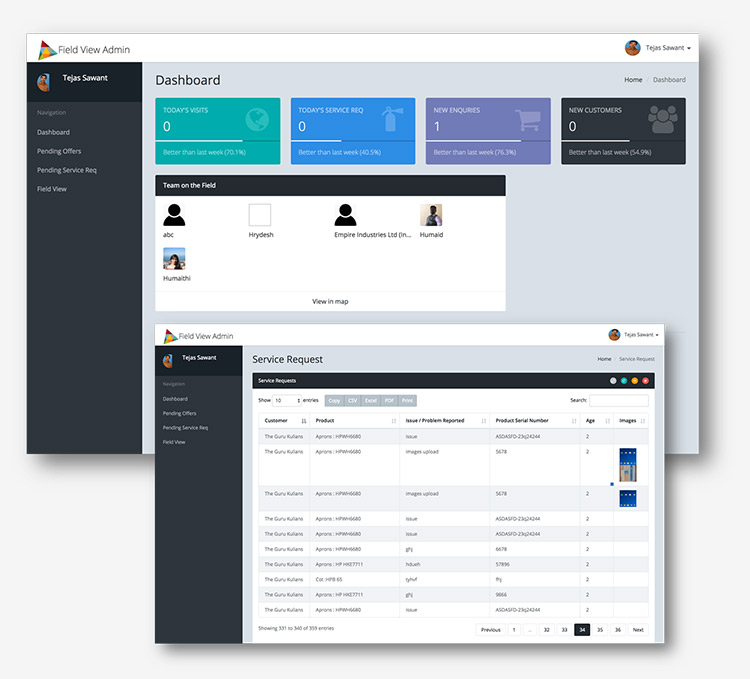 Field View System
Offerings of the Field View System:
For Management
Visibility of the field force with GPS tracking
Optimal resource planning
Better TAT for Services / actions
Option to directly connect with end customer
For Field Force
Scheduling of tasks and meetings
Attendance, Time Sheets and Leaves
Reminders
Route assistant
For Customers / Dealers
Creating and Tracking Service Requests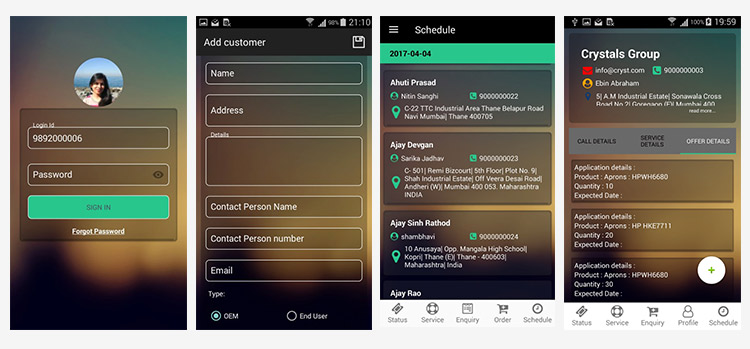 Features:
Quick turnaround for new requirements as Field View is developed as a platform that can be quickly configured for new Domain/vertical/function.
Addition/Modification of the attributes and validations to the screen
UI Theme & Branding
Catalogues can be used for announcements and marketing
Location based notification and meeting alerts
GET THE MOST OUT OF YOUR OPERATIONAL CAPABILITIES
Regardless of the size and the nature of the industry, SSA Techknowlogies provides highly flexible and scalable customized solutions to improve the efficiency and effectiveness of your organization's day-to-day working.
Contact Now